Viktoria Plzen an Inter played at the San Siro tonight. I was supposed to go, bit had a rotten head cold, so stayed at home. My son Simon used the tickets and went with a friend instead- Inter unsurprisingly won 4-0 , having already won the previous tie 0-2, so that was a not unexpected result. Since, I currently am locked sometime in the 1930s, I was quite keen to go this match from a historical perspective. But I stayed at home and wrote the history instead.
In 1935, Inter, then known as Ambrosiana-Inter and Viktoria Plzen were participants in the Mitropa Cup. In the good old days, before UEFA stated running European Football from the Swiss bunker, the Mitropa Cup, or the Central European Cup, as it was also known was one of the first major European club competitions. The name comes from MittelEuropa It started as a competition for the main clubs of the Austro- Hungarian Empire to play each other outside their national leagues- so basically for the clubs from Vienna, Budapest and Prague. In the 1920s, Central European countries were among the first to introduce professional leagues, in Austria (1924) , Hungary (1925) and Czechoslovakia (1926). In order to increase revenues, the clubs agreed to hold a competition between themselves, and the first competition was held in 1927, with the addition of teams from Yugoslavia.
In 1929, the Yugoslav clubs were replaced with clubs from Italy. The format involved the top two, then four clubs from each country taking part. So, there they were with teams travelling around by steam trains, from hauptbahnhof to hauptbahnhof, staying in no star hotels, doubtless quaffing s good few Czech beers and engaging in some decent competition. It all proved surprisingly popular with the crowds and quite lucrative as well.
In their first outing in the Mitropa, the two Italian entries Genoa and Juventus were both beaten and did not get past the first round. In the 1930 edition, Inter got to the semifinals, but were knocked out by Sparta Prague, 8-3 on aggregate. Nevertheless, Inter's Giuseppe Meazza was the tournament's highest scorer with 7 goals. In 1931, Juventus failed to get out of the quarter finals and Rome were defeated the in the semifinal. In 1932, the Italian club AGC Bologna won the competition, but that was only after both Slavia Prague and -Juventus were expelled from the competition after a riot during their fixture in Prague With Arpad Weisz back at the helm, Inter got through to the final in 1933, losing 4-3 on aggregate to Austria Wien. In 1934, Inter (still managed by Weisz) were knocked out in the first round by the Czech side Kladno. The tournament was won by AGC Bologna, this time plating a proper competitive final.
The 1935 competition involved.
Austria; Admira Wien, Rapid Vienna, Austria Wien and First Vienna
Italy; Juventus, Ambrosiana-Inter, Fiorentina and Roma.
Hungary; MTK Budapest, Ferencvaros, Ujpest and Szegedi.
Czechoslovakia; Sparta Prague, Slavia Prague, Zidenic and Viktoria Plzen
Viktoria Plzen and Inter did not meet on that occasion, they were both eliminated in the first round.
Viktoria Plzen qualified after finishing 1934-35 Czechoslovak First League. It was not to be until 1971, that they qualified for another European competition, the European Cup Winners Cup.
Inter obviously had a much more thorough pedigree. In 1934/35 they had finished Second in Serie A after a dramatic season. For that season, the club was managed by the Hungarian Gyula Feldmann, he was the latest in a series of Hungarian managers at the club, which had started with Arpad Weisz. He was followed by Josef Viola, then Weisz retuned. He was followed by István Tóth-Potya. After Tóth-Potya proved less than successful, Weisz returned again but was unable to recapture his old magic. Then they appointed Feldmann.
Feldmann had played as a defender. He played for three Budapest sides; Nemzet (1906-1910), Ferencváros (1910-1913) and MTK Budapest (1913-22).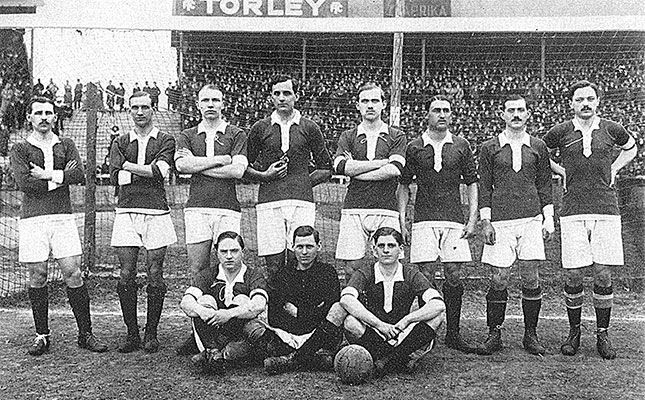 István Tóth-Potya is front row, first on left. Gyula Feldmann back row second from right
In 1922 Fedmann transferred to the Jewish team Maccabi Brno as player-manager, before moving to Germany, where managed Altona in Hamburg and Bremen, Budapest where he managed MTK and then to Juventus Bucharest in Romania. Most of those Hungarian managers new each other extremely well. Toth and Feldmann had played together at Nemzet. In fact, Feldmann has ended up marrying Toth's half-sister, which since Feldmann was Jewish and Toth's sister not, has caused the estrangement of Feldmann from his family. Toth and Feldman were making joint property investments together and sharing a flat in Budapest. On one occasion, Feldmann was asleep when a potential signing turned up to see him at the apartment, Toth who was awake promptly signed him instead. Feldmann had also played alongside Weisz at Maccabi Brno. It was a small old world, Hungarian Football. We shall return to the interesting and tragic stories of Toth and Weisz another time but staying with Feldmann.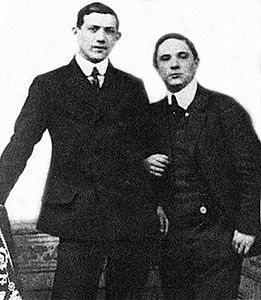 Gyula Feldmann and István Tóth-Potya, brothers-in-law, business partners and friends
In 1930, Feldmann joined the influx of Hungarian managers into Italy. Under the Fascist regime, the Italians had banned foreign players but not foreign managers. The Italians were politically sympathetic to Hungary and the Danubian School of football was welcome in Italy. Feldmann started at Fiorentina in Serie B. In the 1930-31 season they finished first and were promoted to Serie A. In the 1931-32 season, Palermo got off to an uncertain start, with only 5 points from their first four games and losses against Vigevano and Cremona. They sacked their Italian manager Tony Cargnelli and replaced him with Feldmann. Palermo's fortunes increased from thereon and they finished top of Serie B and were promoted at the end of the season. In 1932-33 Palermo stayed up in Serie A at a reasonable 12th place, but in the 1933-34 season, they finished fourth from the bottom and Feldmann departed.
Feldmann joined Ambrosia- Inter at the start of the 1934 season in September. Inter had finished second in Serie A in 1933-34 under Feldmann's fellow Hungarian Arpad Weisz., It was that the second year running that Weisz had taken Inter to second place, but they seemed unable to repeat their Championship winning form. Despite this relative success Weisz left Inter and went to Novara in Serie B. Feldman took over a well-established Inter squad and the season started well with a 3-0 victory over Feldman' s former club Palermo. His old friend Tóth-Potya, after a period back in Hungary had returned to one of his former Italian Clubs, Triestina for the 1934-35 season. – Triestina lost 0-7 to Inter on 14 October 1934, including a hattrick by Meazza. Other scorers included Frione. After losing to Rome on 2 November 1934, inter then went on 22 game unbeaten run However, the season was marred by tragedy.
One of the stars of the team was Francesco Frione from Uruguay. Frione had been discovered in Montevideo and first appeared for Inter in September 1932 under Weisz's second tenure as manager. He may even have been discovered by Weisz, for whom there were tantalizing rumours of a sabbatical in Montevideo. Although Foreign players were banned in Italy, there was a technical get out for Oriundi, foreign players of Italian origin. Conveniently Italy had a large diaspora in the South American footballing nations of Argentina, Brazil, and Uruguay, which gave Italian clubs a potentially large talent pool from which to recruit. The beauty was that there was technical qualification to be an oriundi apart from an Italian name and origins. The Frione family from Liguria had emigrated to Uruguay to join Garibaldi's Italian Legion in the 1830s.Garibaldi had escaped from Italy in 1834, after being sentenced to death for rebellion, While in South America, he took part in several local wars and perfected the art of guerrilla warfare. During the Uruguayan Civil War he organised an Italian legion ( "The Redshirts") who participated in the defence of Montevideo from an Argentine invasion. Francesco Frione stayed on in Uruguay and changed his name to the more Spanish, Francisco Frioni. Three of his grandsons, Arturo, Francisco and Riccardo played football for the Montevideo Wanderers. In 1931, Francisco was spotted playing for Montevideo by Italian scouts and recruited for Inter- Despite his Italian origins they seem to have made doubly certain by restoring the family name on his birth certificate to Frione.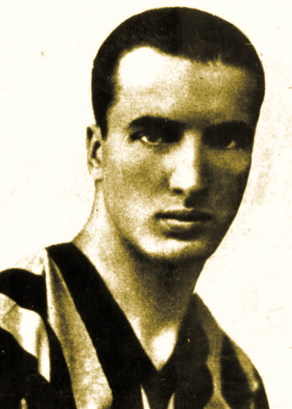 Francesco Frione. A potential legend for Inter, who died tragically young at the age of 22
Francesco Frione (sometimes referred to in statistics as Frione II to distinguish him from his brother) was destined for a bright career in Italy and possibly to join the Italian national Team. Unfortunately, his life was cut tragically shirt. He contracted pneumonia which was left undiagnosed and untreated. Francesco died at the tragically young age of 22 on 17 February1935. The citizens of Milan filed past Francesco's coffin, some of the last to arrive were his colleagues from Inter, including Meazza who had been playing an international match against France in Rome the day before. The following day his civic funeral was attended by thousands of Milanese, is it went from Ambrosiana-Inter's headquarters in via dell Unione to the Church of Sant'Alessandro near Missori. The hearse was preceded by 40 wreaths and followed by not only his Inter teammates, but by the whole AC Milan squad as well. Th funeral cortège included all the directors of Inter and officials from the FIGC, and representatives from Juventus, Lazio, Fiorentina and other clubs. At Sant'Alessandro his coffin was carried by Inter squad members, on top were two shirts the national shirt "Azzurro" and the "nero-azzurro" of Inter, After the service, his body was taken to the Cimitero Monumentale for interment. [1]
Despite the tragedy the team struggled on and maintained their unbeaten record, right up to the last day. On 2 June 1935, at the Stadio del PNF in Rome, Lazio beat Inter 4-2. Juventus secured the Serie A Championship by two points over Ambrosiana-Inter, who qualified for the Mitropa Cup as second placed in Serie A. Despite their string season, Inter lost both legs of their Mitropa Cup tie with FK Austria. They lost the first leg 2.6 and the return 1-3 going down by 3-8 on aggregate. Serie A winners Juventus were surprised to be held to a 3-3 draw by Viktoria Plzen in the first leg, Juventus then went on to win the return match 5-1.
Feldmann stayed the 1935-36 season at Inter for the last few games managing alongside sporting director Albert Carraro. Inter finished fourth. Also, in that season he managed to give old friend, Toth's Triestina a -5-0 battering. Feldmann then went to the Belgrade side SK Jugosavija and returned to Hungary to manage MTK Budapest in 1939.
In March 1940, Feldmann was running a training session, when he started to feel unwell. He collapsed and was diagnosed as suffering from a stroke. Matters were made worse when the ambulance divers apparently dropped him. He suffered a leg injury which turned septic and required the amputation of his leg. Although his injury made Feldmann exempt from compulsory labour service, nevertheless his life was in danger once Budapest was occupied by the Nazis and the Arrow Fascists (see the article on Toth) . While Eichmann's Death Squads roamed Budapest, Feldmann stayed in hiding, probably helped by the Toth family and survived the war. He continued to live in post-war Budapest but became more or less a recluse .and died in 1955.
***********************************
Some of the anecdotes on Feldmann can be found in Jonathan Wilson's excellent book "The Names Heard Long Ago"- How the Golden Age of Hungarian Football Shaped the Modern Game." It is a truly wonderful study of all those wonderful InterWar Hungarian Managers
The Names Heard Long Ago: Shortlisted for Football Book of the Year, Sports Book Awards eBook : Wilson, Jonathan: Amazon.co.uk: Kindle Store

---
[1] As reported by the Corriere della Sera, 20 February 1935