I am not usually a huge fan of books about sports, but this one was a great little discovery. I came across this book while researching a project on Arpad Weisz, the Hungarian Jewish Manager who won the scudetto with Internazionale and then went on to repeat the feat with Bologna, before being forced to leave Italy as a result of the 1938 Racial laws. Weisz and his whole family were deported from the Netherlands in 1943 and murdered in Auschwitz. In 1929, while on a sabbatical from Inter, Weisz managed the Hungarian club Sabaria FC and joined them on a tour of Mexico and the United States. In March 1929, Sabaria played New York Hakoah one of whose stars was Bela Guttmann.
Guttmann was a Hungarian Jew, a near contemporary of Weisz. In fact, they had probably played each other in the Hungarian league in 1920, when Weisz played for Torekves and Guttmann for MTK Budapest, they were also fellow squad members in the Hungarian team which travelled to the 1924 Paris Olympics. Weisz achieved a huge amount early in a life which was tragically cut short, Guttmann had to wait until much later in life for his success. David Bolchover has written an interesting and moving account of Guttmann's life. It is not just a football book, spanning decades of European and American history from the Jewish Vienna of the 1920s, through the America of speakeasies and prohibition and into the post-war Italy of the years of the Dolce Vita , to a Brazil which was still making progress and Portugal in the dog days of its long dictatorship. Guttmann rose to prominence playing with the Jewish squad Hakoah Vienna, a squad whose North American tours sold out to audiences of 60,000 – the sort of crowds which were not to be seen watching football in the US until the 1994 World Cup. After his wartime experiences, Guttmann became a serial winner with Sao Paolo and with Porto and Benfica. Unfortunately, instead of going out on that high, he hung for too long and made a series of less than successful, come backs with his reputation suffering as a result. Guttmann's life makes a fascinating story.
Turns out that I had unknowingly been following Guttmann around. He managed AC Milan for a brief period and would have paced the technical area at the San Siro , where my son and I were season ticket holders for several seasons ( well we were Inter season ticket holders but it was still the same shared stadium in the 1950s ). On holiday in Portugal, we had watched FC Porto play, without knowing that Guttmann used to manage Porto. At Benfica's Museum in Lisbon, we had posed for photographs with the statue of Eusebio and admired the European silverware, without knowing who had discovered Eusebio and won that silverware. In Budapest I had looked at the shoes on the Danube, the memorial to Budapest's murdered Jewish population, an event which has significantly impacted Guttmann It was our English team Manchester United that had put Guttmann's Benfica to the sword in the Quarter Finals of the European Cup in the person of George Best.( Okay hands up, I didn't see that one far too young) As Bolchover puts it, Guttmann was a roving and successful manager , and also by all accounts a difficult one, " a special one" well before Jose Mourinho came on the scene. Guttmann seems to have been a trailblazer, years ahead of his time in realising the financial benefits a football manager could extract , negotiating his bonuses and regularly falling out with his employers over his financial demands. Unlike many modern managers he found success both in Europe and South America. Clearly, he was well before the influx of foreign managers in England. Bolchover tells the story that after his success in Brazil and Portugal, lowly Port Vale were the only English Club to approach him. It Is not sure how they expected to meet his financial demands, and in the end not surprisingly he turned then down for a brief and unsuccessful stint at Uruguayan Champions, Penarol.
Statue of Eusebio at Benfica Stadium - Eusebio was discovered by Bela Guttmann
The book plugged some holes in my European football knowledge and bought a new significance to my collection of football mugs. Watching Porto play, I had known that Jose Mourinho had managed them to success, I did not know that they had won their 1959 Championship with Guttmann at the helm , and that after he had left them ( in the usual dispute over his salary) and joined rivals Benfica, that he had become a hate figure at Porto , until he made a rather bizarre and unsuccessful comeback in the 1970s. He had even tried to negotiate a move to Benfica's local rivals, Sporting Lisbon after that. And that statue of Eusebio, outside the Benfica Stadium, it was Guttman who had managed to lure Eusebio to Metropolitan Portugal from Sporting Lourenco Marques, putting Sporting Lisbon's nose well out of joint in the process. Those two European Cups in the Benfica museum, won back-to-back in 1960 and 1961 they were down to Guttmann too. It is all extremely well told by David Bolchover We cannot escape the effect that anti-Semitism and the holocaust and its effects on Guttmann's life. He left his native Hungary after widespread outbreaks of anti-Semitism during the White Terror which followed Hungary's failed attempts at Revolution in 1919. He moved to Vienna, to play for Hakoah Vienna, which for a while became one of Europe's most successful teams. As Bolchover puts it "In January 1925, Bela Guttmann scored for Hakoah Vienna in an 11-2 victory over Maccabi Tel Aviv. When this game took place, there were more Jews in Vienna (200,000) than in the whole of Palestine. Today there are more than six million Jews in Israel and fewer than ten thousand in Vienna. The respective fortunes of Maccabi Tel Aviv and Hakoah Vienna reflect this astonishing demographic sea change. The former are regular participants in the Champions League, whereas Hakoah did not make it past the Anschluss". Guttmann left Hakoah Vienna after their US tour in 1925 and stayed in the US, playing for New York Giants and New York Hakoah during the USA's first brief infatuation with soccer,. Apparently, Guttmann invested in a "Speakeasy" and lost his money in the Wall Street Crash, he retreated back to Europe and rather more surprisingly to Hungary, where he managed Ujpest. Despite having a US Residence permit, he stayed in Hungary and survived throughout the war- through the Arrow Cross fascists, Adolf Eichmann and finally the reduction of the city to rubble during the Red Army siege.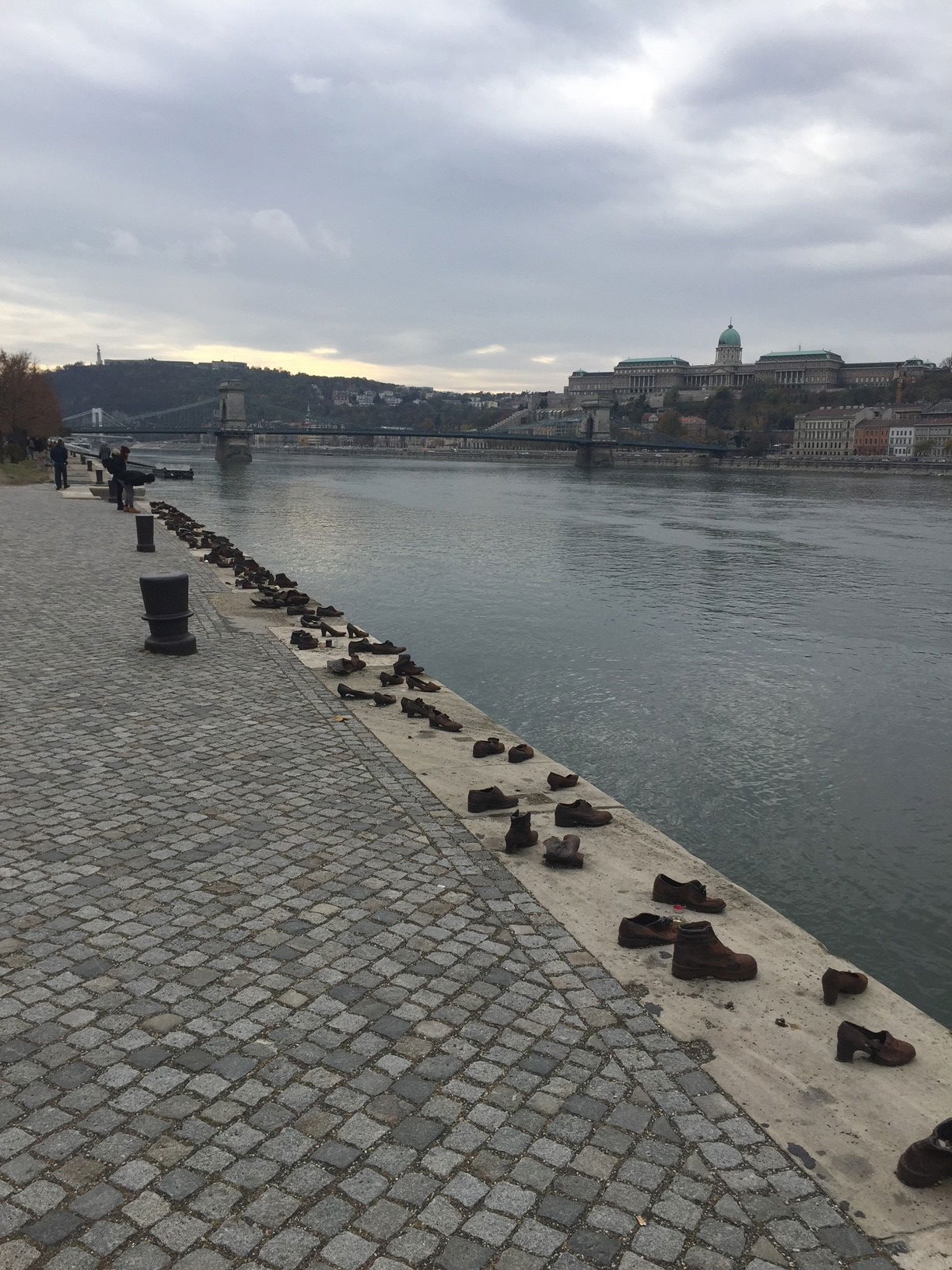 The Shoes on the Danube in Budapest- Guttmann managed to survive the Holocaust in Hungary
He even stayed there after the war, finally ending up in Italy after the failed Hungarian Uprising, when he went to Italy managing in rapid succession Padova, Triestina and AC Milan. Its fair to say that his Italian career was not so successful, but it established him as a figure to be considered in global football and at the relatively late age of 55 or 56 , it was the first time he stated getting paid decent money. After the unfortunate saga of involvement in a fatal car crash in Milan, he ended up in Brazil, where under his direction Sao Paulo beat their local rivals Corinthians and won the Regional Championship. After Sao Paulo could no longer afford him, it was back to Europe, where he led Porto to a dramatic last-minute win in the Portuguese league. He then moved to Benfica, drawing the ongoing hatred of Porto fans. With Benfica, he won the European Cups in 1960 and 1961.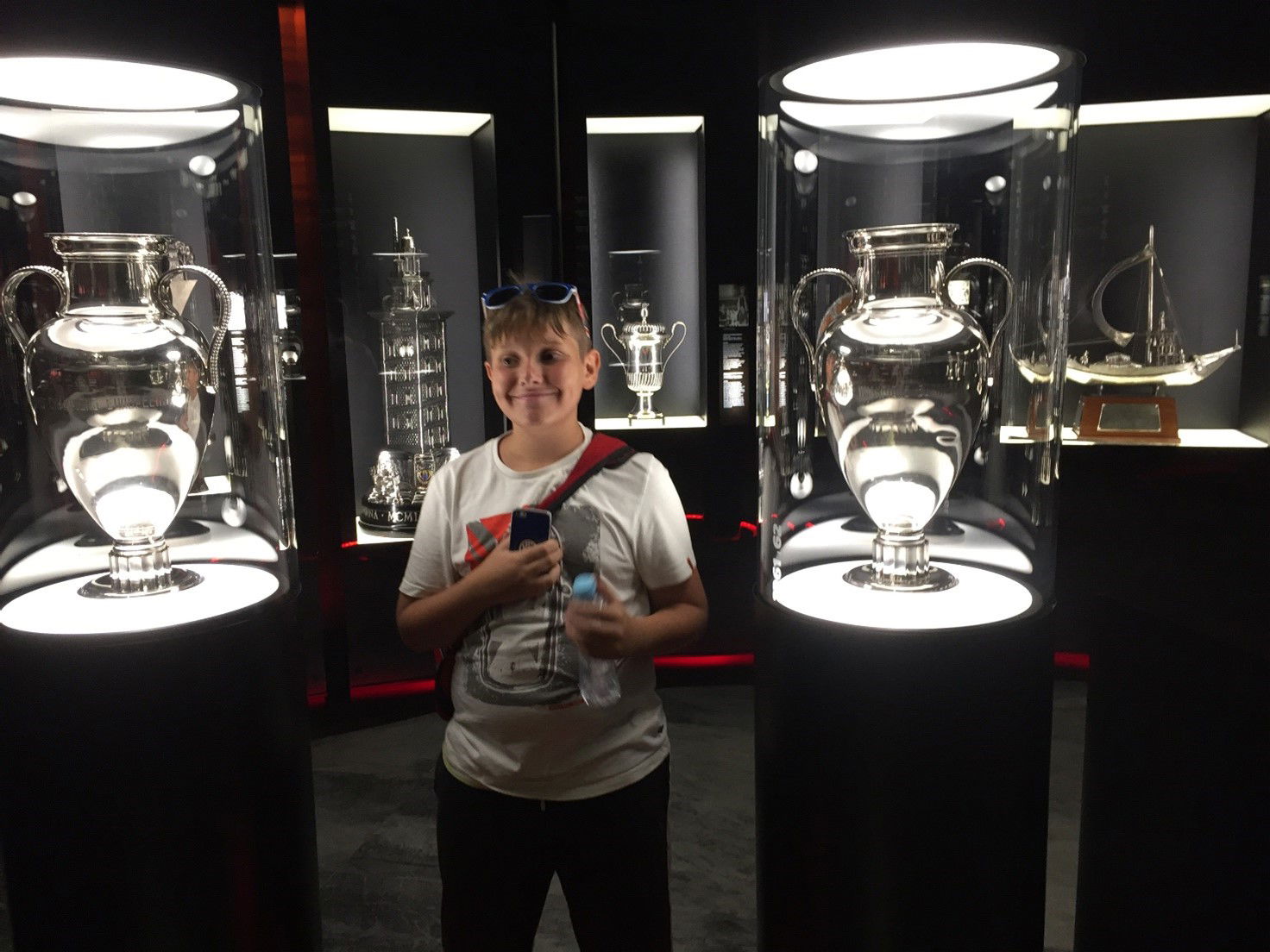 Benfica's European Cups won under the Management of Bela Guttmann
The trouble was that Guttmann did not quit while he was ahead. Instead he spent his latter years moving around at lot , he went back to Benfica without success, coached the Austrian national side and ended up coaching in the lower Swiss leagues. A return to Porto did not finish well. Bolchover attributes Guttmann's continued comebacks to a lack of cash, as noted he did not start earning good money until his mid to late 50s and he had to carry on for the money. Bolchover identifies another issue – Guttmann may have had a serious gambling problem dating back to his days in New York, quite simply he and his wife were blowing most of their cash and he had to keep it topped up. Bolchover discovers that in the end Guttmann's wife, who outlived him by many years was buried in a pauper's grave in Vienna, with barely a penny to her name.
David Bolchover's book is a great read for anybody interested in general football history and European history in general. It does a good job to creating a lifelike, and indeed a "warts and all" picture of a legendary football manager, whose story deserves to be more widely known