In my occasional researches at the Milan War Cemetery. I have come across several interesting stories. Usually, the research was helped because I was on a well-travelled path. The stories of Australian, New Zealand , British and South Africans who rest in the cemetery have often been well documented and have even been the subject of books. For example, the for SAS men who died during Operation Tombola in April 1945 and are buried in Milan are the subject of Damien Lewis's book "SAS; The Italian Job" . Both Australian and New Zealand have excellent Memorial websites which document their fallen and give access to a host of other records. In many cases family members have researched tier family histories and published blogs or online articles. There is one grave in Milan, that seems sadly overlooked, I may be wrong, but I doubt that anybody deliberately visits. It is the grave of Private Besueri Sebaiga ( Number: UML/58608) who died 19 November 1942.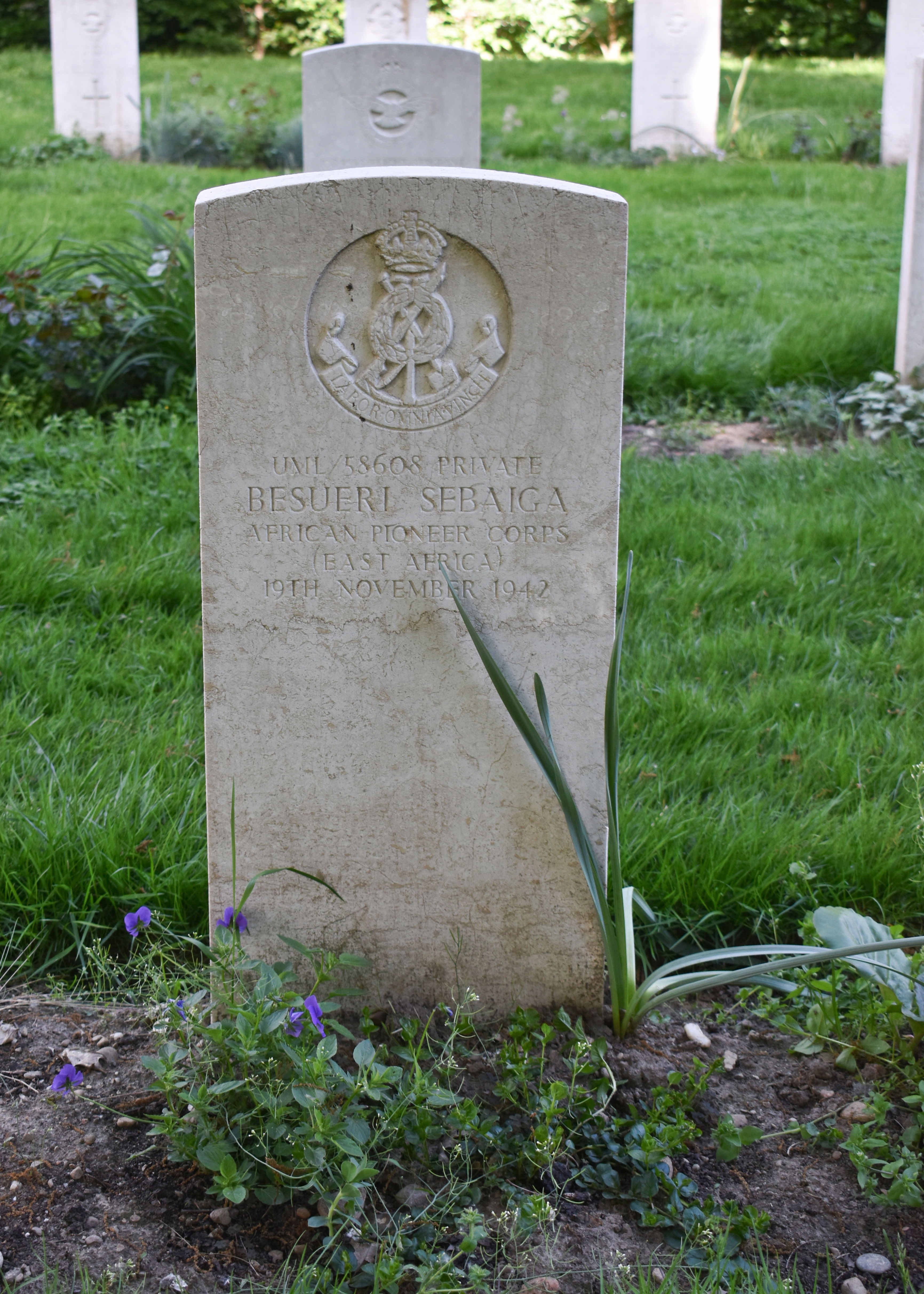 The tombstone has no religious emblem, no personal inscription – just the crest of a corps and the bare details. On the CWGC website there are no further details regarding age, family, or place of birth. The only other information is the Concentration report which is shown on the CWGC's website and which indicates that Besueri was originally buried at the Civil Cemetery in Bergamo, from where he was exhumed and reburied at the Milan War Cemetery. So I wondered how, Besueri had ended up in Milan. A brief internet research confirms that the names Besueri and Sebaiga are most common in Uganda, which fits with Besueri being in the African Pioneer Corps (East Africa) – so he was from East Africa and presumably, there is a high probability he was from Uganda. Another clue is in his army number which starts UML, looking at other recorded deaths from the Africa Pioneer Corps ( East Africa) , they have different serial numbers , KML, UML and TML – I assume that these stand for Kenya, Uganda and Tanganyika ( now Tanzania).
The African Pioneer Corps was formed to meet the needs of the British Imperial forces for labour to support the frontline troops. Pioneer units were less technical than say the Royal Engineers, but they provided the vital manpower to repair tanks, unload ships, build roads, pipeline and railway tracks and to construct defensive positions. Traditionally, in the British Army there was a designated pioneer for each company in a regiment. In about 1750, it was proposed that a Corps of Pioneers be formed. Nothing came of this for nearly one hundred years, until the Army Works Corps was briefly established during the Crimean War in 1854. The Labour Corps was formed in 1917 during the First World War, during which it employed 325,000 British troops, alongside 98,000 Chinese, 10,000 Africans and at least 300,000 other labourers in separate units such as the Chinese Labour Corps and Maltese Labour Corps.
In September 1939, a number of infantry and cavalry reservists were formed into Works Labour Companies, which were soon made the Auxiliary Military Pioneer Corps (AMPC); a Labour Directorate was created to control all labour force matters. A large number of Pioneers served in France with the British Expeditionary Force. On 22 November 1940, the name AMPC was changed to Pioneer Corps. As demands for labour increased the need for Pioneer Companies increased, these started to be recruited from parts of the Empire. In 1941 there were four pioneer companies forming part of the British forces on Crete from Palestine and Cyprus. As the war progressed, the need for labour became greater especially in the Middle East Theatre. In November 1941, the British had defeated the Italians in North-East Africa ( in Eritrea, Somaliland and Ethiopia) . In December 1941, the Japanese attacked Pearl Harbour and a number of Australian units were withdrawn to the Far East. On the frontlines they were replaced by South Africa formations which had been fighting in East Africa, but with the loss of many of the Cyprus and Palestine Pioneer companies in Greece and Cyprus, the Army also needed to make up for a shortfall in uniformed military labour and it looked to British Africa to provide these.
By 1939, Kenya was already serving as a staging post for Imperial Forces in the event of any conflict with Italy in Northeast Africa. On 10 June 1940, the Italians declared war on Great Britain and France, and shortly afterwards invaded British Somaliland. The war in Northeast Africa continued, as one of the war's lesser-known fronts from June 1940 through to November 1941 when the remaining Italian forces still fighting in Ethiopia surrendered to the British at Gondar. Initially the Colonial authorities in Kenya raised two Pioneer battalions to undertake labour for the Imperial Forces then concentrating in the area. As the war with Italy progressed, Imperial Planners worked with the Colonial Authorities to establish the much larger East Africa Military Labour Service to provide such support. As noted above, the Imperial planners were looking towards British ruled Africa as a source of Uniformed Labour, such men would not form part of Colonial Regiments like the King's African Rifles ("KAR") , but would actually be part of the Pioneer Corps of the British army. This was a bit too much for Colonial Officials in East Africa, who believed that "their natives" could not be treated the same as the regular British Army. So they created the African Auxiliary Pioneer Corps (this was later to be renamed simply the African Pioneer Corps) . The bulk of the men in the AAPC came from Kenya, Uganda and from the High Commission Territories in South Africa (Lesotho, Botswana, and Swaziland).
Initially the rank and file of the APC was raised from Nyanza Province in Kenya , they were placed in camps in the Northern Frontier District of Kenya near to the frontier with Italian East Africa. . This led to some initial difficulties with men who thought that they were being recruited for frontline service with the KAR. At Garba Tula there was a small mutiny instigated by Sudanese NCOs, which had to e put down, ironically by the KAR. After that the authorities widened recruitment for the African Pioneer Corps to Uganda. In all 76,957 Ugandans enlisted in the Pioneer Corps, the EAMLS and the KAR.
As the fighting n the Western Desert intensified, the Middle East Command estimate that they needed 135,000 Lines of communication troops. The demand for labour from East Africa was so high, that the local authorities, started to push back on the basis that it was threatening agricultural l production . The emphasis of recruitment shifted to West Africa instead.
It is possible to follow the path of the APC (East Africa) through the database of the Commonwealth War Graves Commission. This records the deaths of 1189 members of the APC from 1939 through to 1946. (The overwhelming majority of these deaths were in Africa) From1939 through to March 1941, all deaths and burials are recorded as being in Kenya. In April 1941, there are two burials recorded at Dire Dawa African War Cemetery, in Addis Ababa. They may have died when Addis was liberated from the Italians in April 1941. Many APC men who died in the conflict in East Africa with no known gave are commemorated on the East Africa memorial in Nairobi. As the war in the Western Desert intensified, the men from the APC were sent to a vast desert camp at Quassasin near to the Suez Canal. At its height the camp housed 26,000 men and from there they were posted in companies, usually consisting of men from the same colony to Egypt, Palestine and Syria. Their tasks included unloading and loading, construction, and some guard duties. Some of their duties left them particularly vulnerable to air attack y the Germans. In December 1941, the first graves for the APC start to appear in Egypt, at Port Said and then at Tobruk, four men of the corps were died together on 27 February 1942 at Tobruk. Thereafter, there a number of casualties at Alamein who all died on 8 March 1942, with further deaths at Tobruk and elsewhere in Egypt. On 28 June 1942, the APC suffered a catastrophic loss when some forty men were killed during a German raid on the Oil Depot at Abu Haggag.
The first man from the APC to be buried in Europe was Private Erifazi Ngoboka (Service Number: UML/58491), 1823 Coy APC who was originally buried at Caserta Civil Cemetery. There was a POW Camp, PG66 Capua near to Caserta, so presumably Erifazi died there. Capua was a transit camp for Prisoners who had been shipped from ports in North Africa, principally Benghazi to Naples. A second member of 1823 Company died and was buried art Caserta on 20 November 1942, Private Wilhelm Nderingo, (TML/85301). Typically, the Italians kept their prisoners of war in camps in North Africa before shipping them to Europe.
It seems probable that Besueri would also have passed through Capua before finishing up in the North of Italy There is not much written about the APC's services in North Africa. Certainly, they were present in the besieged port of Tobruk and a couple of hundred may have been captured as the Germans occupied the port in June 1942. There are also reports of other being captured as they retreated from Tobruk, at least one book which has subsequently been requoted elsewhere references a massacre of 202 men from 1823 Company by Italian troops at Tobruk, but this seems to perhaps be based on a miscalculation of casualty figures. It may even have been confused with previous Italian killings of Free French (Gaullist) prisoners at Tobruk in June 1941 or with the killing by the Italians of Eritrean native troops who had deserted and been recaptured. There seems to be no documentation regarding such a large massacre of uniformed Imperial soldiers by the Italians. Certainly, the Italians did not treat captured black troops well, but there is no evidence that they massacred them. There seem to be no accounts by any former members of the African Pioneer Corps regarding their imprisonment by the Italians. Without any records, it is possible at least to try and tell some of Besueri's story. Presumably, he was recruited in Uganda, he might have passed through the training and recruitment camp at Tororo, Uganda. We don't know if he served in the campaigns in East Africa in 1940/41 – being a private he might have been a more recent recruit. So it is probable that he would have gone straight from the camp at Tororo to Mombasa and thence up to Port Said and to the great tented camp at Quassasin. We can probably say with some certainty that he was in or near Tobruk and captured by either the Germans or Italians in June 1942 or sometime shortly thereafter. After a few months in the caps on the Libyan cost, he would have been sent by sea to Naples and to the transit camp PG66 at Capua. From there he was sent north to Bergamo- possibly to the Prison Camp PG62 at Grumello or if he was already sick or wounded to the military POW hospital at Bergamo. That is presumably where he died on 19 November 1942.