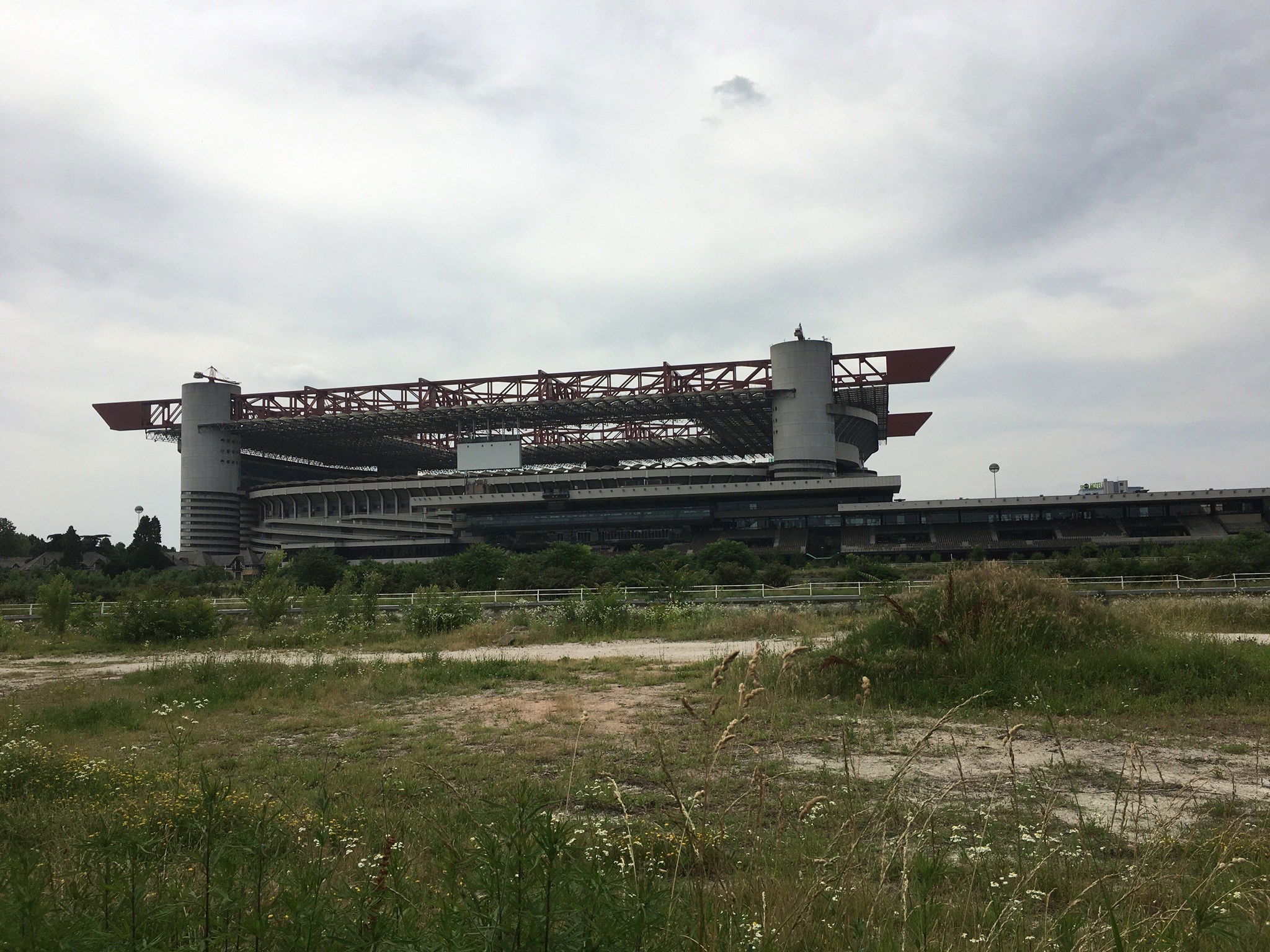 I went to watch England play Italy today at the Stadio Meazza in Milan (otherwise known as the San Siro) yesterday. It turned out to be a truly awful match which saw a lackluster England lose and get relegated to Group B of the UEFA Nations League. Strangely it was only the second time that England have played in Milan as we will see below. If I were them, I would not bother again. When it is full to the brim for Milan Derby or Inter-Juve, it is incredible place. For Italy vs England, it was half full. And the half that was full comprised mainly of ten-year olds. To say the atmosphere was lacking would be an understatement. Anyway, on to some rather more interesting and eventful England Italy matches that took place before the Second Word War.
The first time the two countries played football together was in Rome in 1933- relatively late in the day by footballing standards, and Giuseppe Meazza, Milanese football hero for whom the current stadium is named, was in the Italian starting line. The previous time England played Italy at the San Siro, was back in 1939 in the third of a series of pre-war matches. In Milan, a long running debate continues about whether to redevelop the San Siro and whether Inter and AC Milan might move to a new stadium elsewhere in the city. So potentially, Friday's match might also be England's last meeting with Italy at the San Siro. Possibly it is better to ease this recent on from the memory and look back at more interesting times.
Between the first meeting in Rome in 1933 and the match in Milan in 1939, England played Italy at home at Highbury in November 1934, the "Battle of Highbury". So here is a brief history of those three pre-war England- Italy matches
The first Match- Rome 1933
ITALY 1- ENGLAND 1
England's first ever match against took place on 13 May 1933 at 2.30 CET at the Stadio Nazionale del Partito Nazionale Fascisti, in the Parioli district of Rome.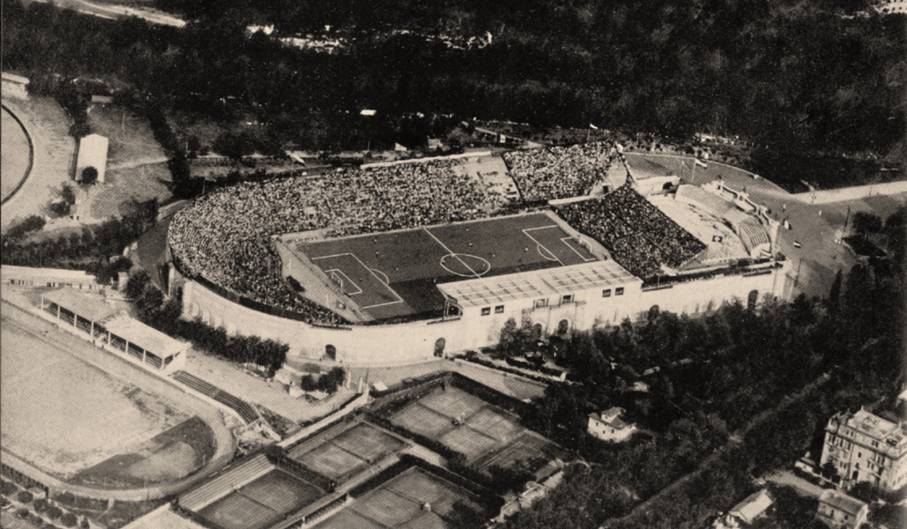 The Stadio Nazionale del Partito Fascisti in Rome
The match was played in front of Italian Prime Minister Benito Mussolini and the British Ambassador Sir Ronald Graham, Sir Ronald was an old Etonian, who had spent a lot of his career in Cairo and points East, one supposes this might have been his first football match. Hopefully some counsellors from the Embassy were able to explain the offside rule to him.
While Mussolini may not have been a huge fan, he certainly understood the importance of sport and the national team in general in binding together the nation. There sems to be some debate in Italy about how much of a football fan Mussolini was. Interviewed in 1983, his son Vittorio commented
" I would not say my father was a fan. For the national team certainly. When there were important games, he would go and watch. But as a fan of a team, I would not say so"
Mussolini preferred the more photogenic and middle-class pursuits of fast cars, sailing, skiing, fencing tennis and equitation. -his son-in-law, the Italian foreign Minister Galeazzo Ciano and the Italian Ambassador to the UK, Dini Grandi were golf fanatics. Nevertheless, Mussolini may have enjoyed a kick around with his sons Vittorio and Bruno. Certainly, he met Italian teams and attended domestic matches as part of his role. Allegedly he paid for his own tickets to some of the World Cup games in 1934 and sat in the stands. By all accounts his understood the rules of the game at least. So he may have been able to explain the offside rule to Sir Ronald, if no British officials could be found to do so, The England team apparently gave Fascist Salute while the Italian anthem was being played and managed to receive Mussolini's autograph.
According to the Corriere della Sera, the match was a total sell ou with 50,000 spectators and Italian record gate receipts of 600,000 Lire. The VIP seats were full with the Fascist part hierarchy including Balbo and Starace.an unusual VIP line up included the former King of Afghanistan who was in exile in Rome.at the time. At 14.55 Mussolini arrived to be greeted by the Fascist hymn Giovenezza ad an ecstatic crowd shouting " Duce, Duce" At 1510 he was joined by the Royal Princesses Maria and Mafalda. Shortly after Roy Goodall led the England team onto the pitch . then the Italians led by Caligaris arrived as the band played the Italian Royal March
The match finished in a 1-1 draw. Giovanni Ferrari scored for Italy and Cliff Bastin for England.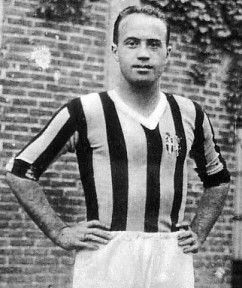 Giovanni Ferrari- scored Italy's first ever goal against England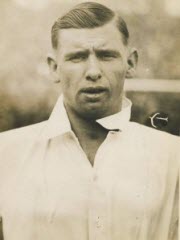 Cliff Bastin- England's first goal against Italy
Match report ROME, MAY 14- The Times - Monday 15th May, 1933 The Association Football match between England and Italy ended yesterday in a draw, each side scoring one goal in the first half. This result did not, on the whole, represent unfairly the run of the play.

The Italian team started off with great dash and confidence, whereas at the outset the English players were somewhat incoherent and took a little time to settle down. For the first 25 minutes--in fact until Bastin cut in from outside, and with a fine shot equalized the scoring that had been opened in the eighth minute by Ferrari--the Italians were distinctly superior, and the English goal was several times in danger...

Bastin's goal was challenged for offside, but the German referee, Bauwens, who throughout did his work well and quietly, was probably right in allowing it...

Hibbs, who appeared both to misjudge the flight of the ball and to slip in trying to stop the Italian goal, did not lose confidence, and made some fine saves...

The game was followed with the keenest excitement by the 50,000 or more spectators who packed the stadium, and among whom were the Princess Maria, Signor Mussolini and Sir Ronald and Lady Sybil Graham.

It has been arranged to play a return match in London, in December 1934. "
That eighth minute goal by Giovani Ferrari was therefore the first ever goal to be scored against England by an Italian (some reports say it was 4 minutes). Given the fact that Bastin's goal hinged ion the offside rule, hopefully there was somebody around from the British Embassy, who had not been to Eton and could explain the rule to Sr Ronald and Lady Sybil.
Such was the anticipation of the game, that even The New York Times were moved to send a correspondent and they wrote:
"No other contest in the history of modern Italian sport has caused so much interest."
Meazza was born in the Porta Vittoria area of Milam his father had been killed i the Great War and had grown up helping his mother on her fruit and vegetable stall and playing barefoot football in the stets of Milan. At the age of 12 he was playing for a club called Gloria FC and in 1927, aged 14 he was signed by Internazionale of Milan. Due to his slight build, he was given the nickname, "Il Balilio" – the little boy, after the Fascist youth group. Meazza was given his big break by Arpad Weisz, Inter's visionary Hungarian Manager, He was in Weisz's scudetto winning squad for the 1929-30 season, being the highest scorer in Serie A, with 31 goals. His international debut had been against Switzerland in 1930 and by the time, England came calling he has scored against Hungary, France and Germany.
Refereeing the match was Peter Joseph "Peco" Bauwens from Germany, he had played one game as a German international before becoming a referee. He took charge of the match between a Brazilian selection aand Frankfurt-on-Main in which he awarded a penalty to the guest side only to be kissed by Baltazar the Brazilian player. He also d during the 1922 German Cup Final in which Hamburger SV and 1. FC Nürnberg played out two lengthy draws only for the second game to be abandoned when Nürnberg were reduced to six outfield players and a goalkeeper. He had refereed England before at the 1931 international at Highbury between England and Spain (in which Ricardo Zamora conceded seven goals).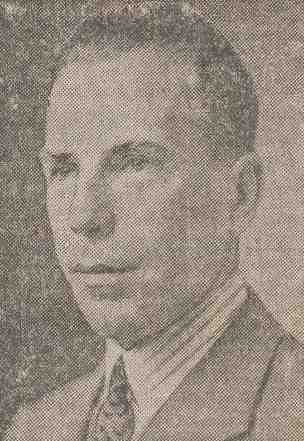 German referee peter Bauwens who refereed two of the England Italy matches
The inexperienced English side, with six players winning their first cap and two others winning their second took to the field in front of 50,000 spectators. Mussolini arrived at the stadium to a crescendo of cheers and the mass waving of handkerchiefs. The PA announcer boomed: "With the Duce one is never lost; neither will we lose today." Newy capped for England was Eddie Hapgood from Arsenal. Eddie had been working as a milk delivery driver in Bristol for his brother-in-law and playing part time football, when he signed for Kettering Town. They offered him £4 a week in the winter, when he was playing and £3in summer, when he was allowed to continue his milk deliveries. In 1927 Eddie had been somewhat surprised to find a distinguished visitor awaiting him in the offices of Kettering Town. It was Herbert Chapman from Arsenal who signed him up for a transfer fee of £1,000. Eddie's career never looked back, and he played in the Arsenal Team which won consecutive English Championships in the 1930s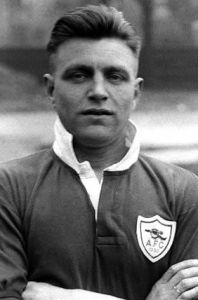 Eddie Hapgood- played in all three of the pre-war England Italy matches
Hapgood wrote an entertaining autobiography "Football Ambassador" in which he also described his participation in the three Italy matches, In Rome, the England team were taken on a tour of the Palazzo Venezia, which was Mussolini's office. Mussolini posed for a photograph with the team, which he later autographed for them.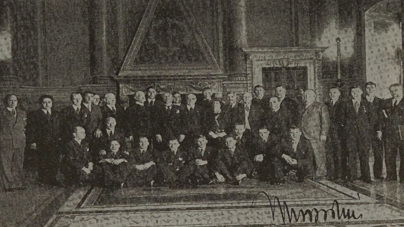 The England team with Mussolini at the Palazzo Venezia - he signed the photo
However, his greatest memory of the tour was of seeing the Pope, Pius XI. . The FA had arranged for the team to tour the Vatican and while they were there, they were told that the Pope was holding an audience for pilgrims and invited to participate. A 1-1 draw allowed both sides to take some comfort from the result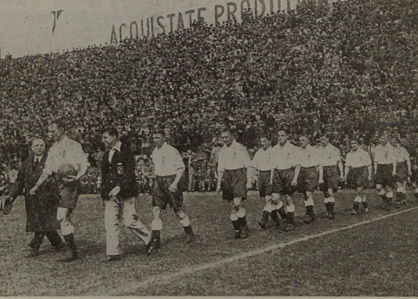 Roy Goodall leads out the England team in Rome
, The FA was not impressed. Secretary Fredrick Wall said after the match: "I have no desire to again be a guest of the Italian Football Federation" and duly refused the host nation's offer to pay all of their expenses to play at the 1934 World Cup.
Italy
Combi, Gianpiero
30
G
Juventus


Rosetta, Virginio
31
RB
Juventus


Caligaris, Umberto
31
LB
Juventus


Pizziolo, Mario
23
RH
AC Fiorentina


Monti, Luis Felipe
31
CH
Juventus






Bertolini, Luigi
28
LH
Juventus


Constantino, Raffaele
25
OR
AS Roma


Meazza, Giuseppe
22
IR
AS Ambrosiana-Inter


Schiavio, Angelo
27
CF
Bologna Sportiva


Ferrari, Giovanni
25
IL
Juventus


Orsi, Raimundo Bibiani
31
OL
Juventus






England
Hibbs, E. Henry
26
G
Birmingham FC
Goodall, F. Roy
30
RB
Huddersfield Town AFC
Hapgood, Edris A.
24
LB
Arsenal FC
Strange, Alfred H.
33
RH
Sheffield Wednesday FC
White, Tom A.
24
CH
Everton FC
Copping, Wilfred
25
LH
Leeds United AFC
Geldard, Albert
19
32 days
OR
Everton FC
Richardson, James R.
22
IR
Newcastle United FC
Hunt, George S.
23
CF
Tottenham Hotspur FC
Furness, William I.
23
IL
Leeds United AFC
Bastin, Clifford S.
21
OL
Arsenal FC
The Battle of Highbury
ENGLAND 3 – ITALY 2
England staged a rematch with Italy in 1934 – what became known as the Battle of Highbury. The return match was billed as a contest for world supremacy, the most important of the century. Italy were playing their first game since winning the second World Cup five months earlier in Rome. They had been beaten only four times in the 34 matches they had played since Vittorio Pozzo took over as coach in 1929. Remaining aloof from FIFA and its World Cup competition, England were still widely regarded as the world's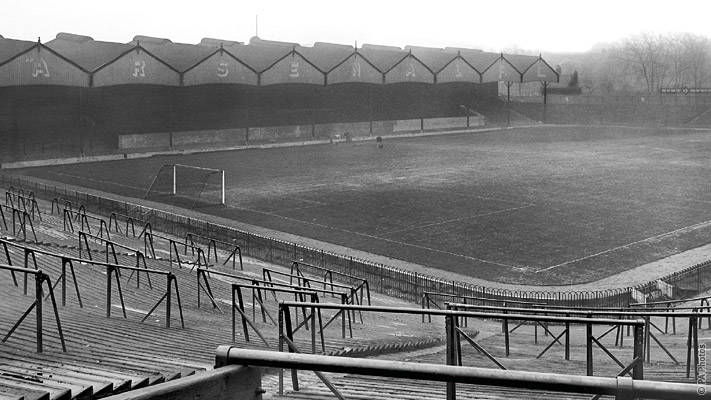 Highbury in the 1930s
The Italians were at full strength, retaining their three controversial South American "oriundi," "Luisito" Monti, Raimondo Orsi and "Enrico" Guaita, and making only two changes in their World Cup-winning team. Carlo Ceresoli, who missed the World Cup through injury replaced veteran Giuseppe Combi, who had retired, and inside forward Pietro Serantoni, replaced Angelo Schiavio. Meazza had reached top form in the 1934 World cup in Italy, putting goals past Greece, the USA and Spain. He did not score in the final against Czechoslovakia, but he did set up Schiavo for Italy's winning goal in the 5th minute of extra time.
England fielded a team largely inexperienced at international level. The selectors had given six players their debuts against Wales in England's last match in late September and now stuck with four of them--right-half Cliff Britton of Everton, centre-half Jack Barker of Derby County, outside right Stanley Matthews of Stoke City and inside right Ray Bowden of Arsenal--while giving debuts to two more--right back George Male and centre-forward Ted Drake. Six players were thus winning their first or second appearances, including the entire right side of the formation. None of England's players had more than nine caps entering the match. Seven Arsenal players took the pitch for England, among them were two making their England debuts, Male, who was given a late call to join his Arsenal partner, Eddie Hapgood, at fullback and Drake, who was selected late following the injury withdrawals of original centre-forward choice Sam Tilson of Manchester City and Tilson's initial replacement, George Hunt of Tottenham Hotspur.
Hours before the match, Eddie Hapgood was told that he would be captain England for the first time. He led the team out onto his home pitch at Highbury and after the National Anthems, he introduced them to HRH, Prince Arthur of Connaught and the Italian Ambassador Dino Grandi. It seems that the British were getting as good as the Italians in getting minor Royals to turn up for England Italy matches. Grandi was more of a golfing man, who used to disappear to the golf course at crucial moments to avoid meeting British Foreign Secretaries.
Italy played almost the entire match with 10 men. Centre-half Monti had a foot bone broken in a challenge from Drake and left the game after two minutes. Convinced the injury was deliberately inflicted, Italy retaliated, and the first half became a blood bath. The Italians went three goals down over the 10 minutes during Monti's exit, although several England players were injured. The most seriously hurt were Hapgood, who had to leave the pitch for 15 minutes with a broken nose courtesy of a Guaita elbow, and Eric Brook, who suffered a broken arm. Ray Bowden incurred an ankle injury, Jack Barker had to have his hand strapped, Drake got a leg cut, George Male had a broken hand and some other England players suffered severe bruising. Hapgood describes the England dressing room as resembling a casualty clearing station. In the first minute of play, Ceresoli brought down Drake in the penalty area but stopped Brook's ensuing penalty kick with a magnificent save.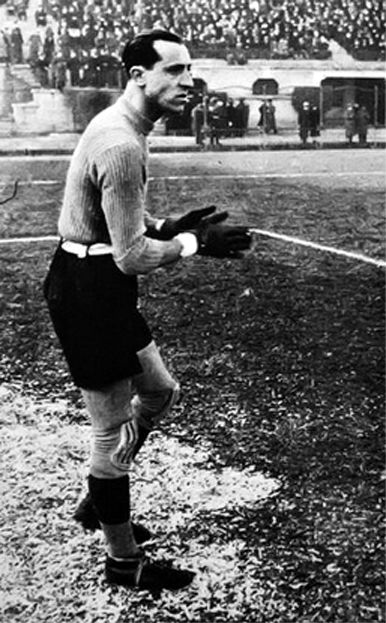 Carlo Cersoli's Penalty save kept Italy in the game
Within a few minutes Brook made amends, opening the scoring with a header from Cliff Britton's free kick and adding a second goal with a left-footed shot from a free kick just outside the penalty area. But for Ceresoli's brilliant penalty kick save, Brook would have had a first-half hat-trick. Drake netted England's third goal while Hapgood was receiving treatment off the pitch. Following an attack down the right flank, the Arsenal centre-forward hooked the ball into the net. Hapgood eventually returned to the pitch, Monti did not, and the Italian played on with ten men.
After half-time, Italy stopped fighting and settled down to play football and, although down to ten men, Meazza scored twice in four minutes apart in very heavy rain, the first resulting from Guiata's skill and the second on a header from Attilio Ferraris' free kick. Meazza also hit the crossbar--and superb goalkeeping from Frank Moss kept England's lead intact.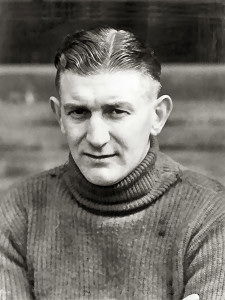 Frank Moss - Arsenal and England goalkeeper, who's superb keeping preserved England's lead
At the Guardian's sport report put it
"Italy were not daunted by even three goals and the loss of Monti, injured, for 13 minutes after the crossover Meazza crowned a straggling raid with a fine rocket shot that beat Moss, and four minutes later he made the most of a free-kick. These were both excellent shots, but not so clever as a hook with his left foot that Meazza made when a centre came in from Guaita. With only a goal in hand England rallied, but the defence prevailed."
Although the match had not settled which was the superior team, Italy's display in the second half, accomplished while short a man, had at the very least served notice that English claims to world footballing superiority were open to legitimate question. In it's extensive coverage, the Guardian published an editorial on the subject
"It is partly because of this that we have heard recently so much silly talk about national prestige depending on the result of one match. These international games are to be encouraged only if they lead towards mutual understanding and goodwill; this they can do if each side, and the spectators, learn during the match that their opponents can be just as good sportsmen as, we hope, they are themselves. One of the things of which this country can be justly proud is that several foreign teams have admitted that they like playing before British crowds because of the fair play which they receive. In spite of excitable newspaper articles, there is still enough common sense left in Europe to prevent ordinary people from regarding England's 3-2 victory yesterday over a gallant Italian team in an Association football match at Highbury as either a triumph for the British National Government or a threat to the position of Mussolini in Italy."
ITALY'S NARROW DEFEAT-THE Guardian November 1934 Battle, Not Football
"England beat Italy 3-2 in the Association international match at Highbury, London, yesterday. England's three goals were scored in the first 15 minutes, two of them by Brook, of Manchester City, but, although losing their centre half-back, Monti, a few minutes after the start, the Italians made a surprising recovery and came near to saving the game. The football was of an unusually robust character, and many of the English players bore evidence of their hard ordeal. Hapgood, the captain, had a bone in his nose broken; Brook had to have his left arm X-rayed last night; Bowden had a damaged ankle, and Drake, the centre forward, had one leg severely hurt. One of the English players, unable to emulate the diplomacy of his captain, said: "It was not a game of football, it was a battle." There were 51,000 spectators at the Highbury ground, among them Prince Arthur of Connaught, to whom both the teams were presented; Signor Grandi, the Italian ambassador and the marchese Marconi. The Italians had an enthusiastic following. In Berne constant reports on the progress of play were taken to signor Mussolini."
Italy
Ceresoli, Carlo
24
G
Ambrosiana-Internazionale FC


Monzeglio, Eraldo
28
RB
Bologna 1909 FC


Allemandi, Luigi
31
LB
Ambrosiana-Internazionale FC


Ferraris, Attilio
30
RH
SS Lazio


Monti, Luis Felipe, ( ARG)
33
CH
Juventus FC






Bertolini, Luigi
30
LH
Juventus FC


Guaita, Enrique
24
OR
AS Roma






Serantoni, Pietro
27
IR
Juventus FC


Meazza, Giuseppe
24
CF
Ambrosiana-Internazionale FC


Ferrari, Giovanni
26
IL
Juventus FC


Orsi, Raimundo Bibiani (ARG)
32
OL
Juventus FC






England
| | | | |
| --- | --- | --- | --- |
| Moss, Frank | 25 | G | Arsenal FC |
| Male, C. George | 24 | RB | Arsenal FC |
| Hapgood, Edris A., injured | 26 | LB | Arsenal FC |
| Britton, Clifford S. | 25 | RH | Everton FC |
| Barker, John W. | 28 | CH | Derby County FC |
| Copping, Wilfred | 27 | LH | Arsenal FC |
| Matthews, Stanley | 19 | OR | Stoke City FC |
| Bowden, E. Raymond | 25 | IR | Arsenal FC |
| Drake, Edward J. | 22 | CF | Arsenal FC |
| Bastin, Clifford S. | 22 | IL | Arsenal FC |
| Brook, Eric F. | 26 | OL | Manchester City FC |
The last pre-war match May 1939
ITALY 2 – ENGLAND 2
After all that excitement, it was to be five years before England and Italy met again. England met Italy one last time before the war on 13 May 1939, almost six years to the day from their first encounter.
Much had changed since then. In March, the Germans had invaded what remained of Czechoslovakia and Madrid had fallen to the rebel nationalist forces o General Franco, The Italians had invaded Abyssinia, been placed under sanctions and left the League of Nations. In March of 1939, they had invaded Albania and continued a barrage of provocation against the French British Prime Minister Neville Chamberlain and his Foreign Secretary Lord Halifax had visited Mussolini for talks in January of 1939 but had not got very far. The British were continuing to try and negotiate a trade deal with Italy and a general policy of removing the Italians from the German Camp. Italy had passed its Racial Laws in 1938, one victim was the brilliant manager Arpad Weisz who having won the Scudetto with Inter and twice with Bologna, found himself sacked and forced to leave Italy for being Jewish . In view of the circumstances , Stanley Rous of the FA visited Robert Vansittart, the Permanent Under-Secretary at the Foreign Office to seek advice regarding the forthcoming summer tour of Europe. "When?" asked Vansittart. "End of May!" was the reply. "In that case it will be all right" responded Vansittart, "It is August which will be the danger month." (- Football Worlds: Stanley Rous, p.104.). There was apparently no discussion about the morality of cases such as Arpad Weisz. , England were on a general tour of Europe, which included matches against Italy, Yugoslavia and Romania. The tour was supposed to go to Czechoslovakia as well, but the Foreign Office advised not, and they went to Switzerland instead
Again, England were captained by Eddie Hapgood an Italy by Giuseppe Meazza. .Hapgood says that
" After a long and hard season, we weren't concerned with the political aspect of the tour, , but we were looking forward to a restful holiday in sunny Italy with of course a little football"
Unfortunately, the weather was not very good. The welcome, was however, extremely warm. As soon as they stopped at Stresa for customs checks, they started to receive flowers. According to Hapgood the carriages suddenly became flower filled bowers Beautiful Italian girls threw basket of all kinds of flowers at us and even hung garlands round our necks" When the team arrived in Milan they were mobbed for autographs, and Hapgood raised huge cheer for doing a cheeky Mussolini impersonation from the Hotel balcony. The team were happy to receive a visit from a large group of supporters from Malta who had made the trip to Milan. The Maltese had long been having their own problems with Italy. The players were allowed to train at Inter's ground, which was then at the Arena Civico in the Parco Sempione in Central Milan, The match was a totally sold out and the Milanese authorities were desperately giving travel advice to fans on how to get to the rather distant San Siro,
Instead of the blazing heat of the afternoon which they had found in Rome, this match was played on a cool and rainy afternoon the late afternoon at the San Siro. Construction of the stadium had commenced in 1925 . The idea to build a stadium in the same district as the horse racing track belonged to the president of A.C. Milan ,Piero Pirelli. The architects designed a private stadium only for football, without athletics tracks which characterized Italian stadiums built with public funds. The inauguration was on 19 September 1926, when 35,000 spectators saw Inter defeat Milan 6–3. Originally, the ground was home and property of A.C. Milan. Inter continued to play at the Arena Civico, until moving to San Siro after the war. Apart from being in the same place and being a football pitch, the old stadium bears little in common with the concrete monolith that was subsequently constructed and then reconstructed on top of it. When the English players got out on the pitch, they were surprised to find it was ringed by a unbroken wall of Carabinieri and surrounded by high wire nets, to stop missiles hitting the players.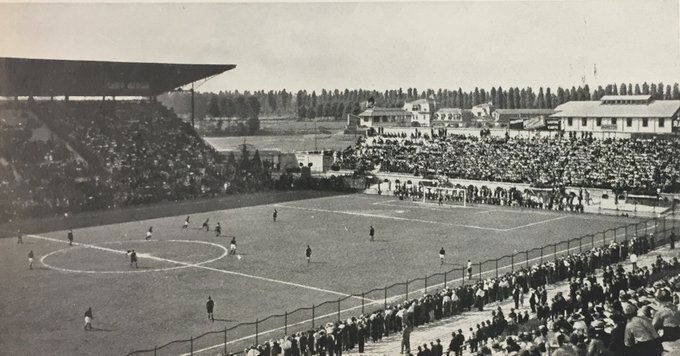 The San Siro in Milan in the 1930s
Once more, the Fascist salute was given by the England team, before and after the match. This time the match was watched by Mussolini's sons, Vittorio and Bruno. These two may have known a bit more about football. They had grown up in Milan as Inter Fans, but on moving to Rome became fans of SS Lazio. The boys did play football at their school the Liceo Tasso in Rome, and were taken to Lazio games by a General in the MSVN , militia General Vaccaro who was well connected with Lazio, and subsequently became head of the FIGC. For the record the match finished 2-2.
Peter Bauwens returned a referee. In the meantime he had refereed the 1936 Olympic Gold medal match at the Olympia Stadion, in Berlin between Italy and Austria in front of 90,000. He also became the first foreigner to referee a match in the British Home Championship when he took on Wales versus Ireland in 1934
MILAN, May 13.—1939 The Times -
Monday 15th May, 1939
" England, playing the first match of their Continental tour, drew with Italy in Milan this afternoon, each side scoring two goals. This was the third time the countries have met and, apart from a certain amount of doubt about Italy's second goal, the game was played in a most friendly and sporting atmosphere. A crowd of 60,000 people watched the match.

Rain, which had fallen steadily for hours before the kick-off, cast a distinct gloom over the Italians, as the soft condition of the ground was all in favour of the English style of play. This was particularly noticeable in the first half...

At the nineteenth minute Foni, under severe pressure, conceded a corner on the right. Matthews took the kick, and Olivieri, who appeared to be unsighted, was beaten by a header from Lawton...

The second half began with England attacking, but the Italians fought back strongly, and within two minutes they equalized. Biavati, gathering a pass from De Petrini, made ground down the wing, beat Mercer and Hapgood, and gave Woodley no sort of a chance with a hard, rising shot. This success filled the Italians with just the confidence they needed, and 16 minutes later they took the lead. Biavati centred the ball from the right, and Colaussi, closely marked by Male and Hapgood, went for it. The ball ran through to Piola, who hooked it into the net. English players protested that Piola had knocked the ball down with his hand to control it, but the referee, after consulting a linesman, allowed the goal to stand. Italy now dropped back on the defensive and packed their goal, but 13 minutes from the end Hall found an opening for a shot which beat Olivieri, who was apparently unsighted again. -
Most press sources indicate, and newsreel footage suggests that Piola controlled the ball with his hand to score Italy's second goal. Despite protests from the English players, Bauwens consulted with his linesman and gave the goal.
According to Hapgood, Umberto the Italian Crown Prince was infuriated and demanded that play was stopped so he could talk to Bauwens. He was eventually discouraged from doing so by Stanley Rous.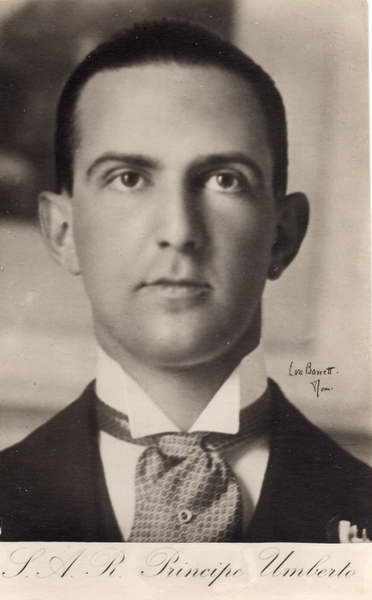 Crown Prince Umberto of Italy wanted to go on the pitch and ague with the referee
Italy
| | | | |
| --- | --- | --- | --- |
| Olivieri, Aldo | 28 | G | FC Torino |
| Foni, Alfredo | 28 | RB | Juventus FC |
| Rava, Pietro | 23 | LB | Juventus FC |
| Depetrini, Teobaldo | 26 | RH | Juventus FC |
| Andriolo Frodella, Miguel Á. (URUG) | 26 | CH | Bologna 1909 FC |
| Locatelli, Ugo | 23 | LH | Ambrosiana-Internazionale FC |
| Biavati, Amedeo | 24 | OR | Bologna 1909 FC |
| Serantoni, Pietro | 32 | IR | AS Roma |
| Piola, Silvio | 25 | CF | SS Lazio |
| Meazza, Giuseppe | 24 | IL | Ambrosiana-Internazionale FC |
| Colaussi, Gino | 25 | OL | US Triestina |
England
| | | | |
| --- | --- | --- | --- |
| Woodley, Victor R. | 29 | G | Chelsea FC |
| Male, George C. | 29 | RB | Arsenal FC |
| Hapgood, Edris A. | 30 | LB | Arsenal FC |
| Willingham, C. Kenneth | 26 | RH | Huddersfield Town AFC |
| Cullis, Stanley | 22 | CH | Wolverhampton Wanderers FC |
| Mercer, Joseph | 24 | LH | Everton FC |
| Matthews, Stanley | 24 | OR | Stoke City FC |
| Hall, G. William | 27 | IR | Tottenham Hotspur FC |
| Lawton, Thomas | 19 | CF | Everton FC |
| Goulden, Leonard A. | 26 | IL | West Ham United FC |
| Broome, Frank H. | 23 | IR | Aston Villa FC |
So that was that two draws and one win for England and then the Second World War intervened. It was not until 1948 that England and Italy were to meet again.