Always nice to come across an interesting and different local history book to give it its full name
" Buxton Pubs - Stories of our past and present inns, alehouses, taverns, pubs and bars" by Julian Cohen.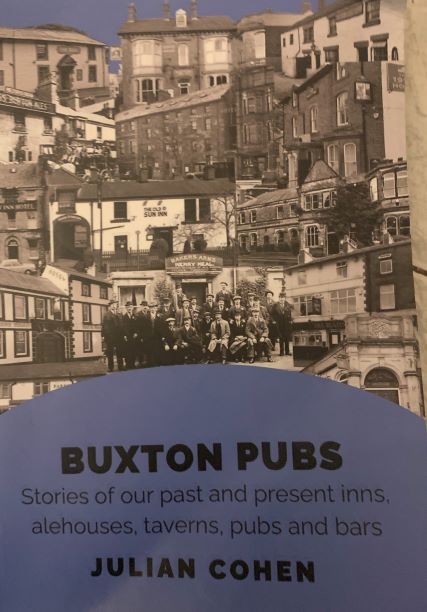 Julian Cohen has written a highly readable history of Buxton bars and pubs, including 32 which are still with us (as of 2022) 19 which have closed since WW2 and 11 historic pubs (lost in the mists of time). Unfortunately, we seem to be down to 31 since the Duke of York in Burbage seems to be closed for the foreseeable future. Hopefully it will be back, sooner than the actual Duke of York.
Julian goes into great depth on the background of many of the pubs, the history and surrounding area. By way of example, we were in The Cheshire Cheese the other night, according to the book it was apparently first mentioned in the 1780s and is a former coaching inn. Being close to the former cattle market, it used to have extended licensing hours- in the days when those were necessary. It is now owned by The Titanic Brewery of Stoke on Trent. A very helpful and friendly lady behind the bar allowed me a couple of tastings from the range of Titanic Ales - before i chose a pint of "The Steerage" which was pleasantly light and smooth. The Titanic connection with Stoke on Trent is that Captain Edward Smith, the Captain of the Titanic came from there. He famously went down with ship and died a hero but let's hope both the Cheshire Cheese and the brewery keep going strong I remember the Cheese from years ago being a number of small rooms it is now more open plan, but still very welcoming. Julian is not really producing a pub guide as such, so if i might recommend anyone visiting the town to sample the range of Titanic ales and a bite to eat.
In the nostalgia department, Julian covers the Baker's Arms- which was small, very cozy and not far from home. Cozy in the sense of smoke filled and the smoking ban might have hastened its demise. Unfortunately, it closed in 2008 and is now converted into housing. He also covers the Gaslight which many former residents of Buxton of a certain age will remember well. Having left Buxton in 1984, Julian's coverage of new bars is also welcome to me- I missed most of them opening (and some even closing again) so I know where to go now. Fascinating snippet of information- most of the former banks in Buxton that have now become bars or restaurants.
There is a serious point in all this, many of the closed pubs were centres of community life and the closure of many has been a sad loss. The residents of Burbage currently do not have a local so here's to hoping the "Duke" reopens. It is great to see independent brewers like Titanic and Buxton Brewery keeping them open. and offering a good choice of local beers. Hopefully they will not be calling time on Buxton's remaining pubs and bars for many years to come. With the cost of living and energy crisis, it will be difficult but with some innovation and community support we hope they will pull through.
This a fascinating book, full of useful information and Julian has obviously talked to a lot of people in putting it together. Not just about pubs, but local history in the broadest sense. The book is highly recommended for former residents who want a bit of nostalgia for their former watering holes, current residents who are interested in the town and casual visitors who just want to know more about the place they are drinking in.
Every town should have a book like this.
I should add that the book is published by Buxton Civic Association, so any profits go back into their local projects which is a good thing.
We purchased our copy in Scrivener's Books, Buxton.
Some useful links below.
Scrivener's Books - Contact (scrivenersbooks.co.uk)
The Cheshire Cheese Pub in Buxton | Titanic Brewery
Tasty, Aromatic, Full Flavoured, Craft Beers| Buxton Brewery